Peace Within Chaos
on display at the Joyce Gordon Gallery
406 Fourteenth Street, Downtown Oakland

Artist Talk, Friday July 8th, 6-9 PM
free and open to the public June 3rd - July 30th 2016
Wednesday - Friday 11:00 AM - 5:00 PM
Saturday 1:00 PM - 5:00 PM
or by appointment | (510) 465-8928
Join Joyce Garden Gallery for a special presentation with artist, Kevin Woodson, for an artist talk about his personal experience with flowers and offer a deeper insight into what has led him to a dedicated life of flower painting. He'll reveal the unexpected drama and history behind these vibrant and powerful paintings and will be answering your questions.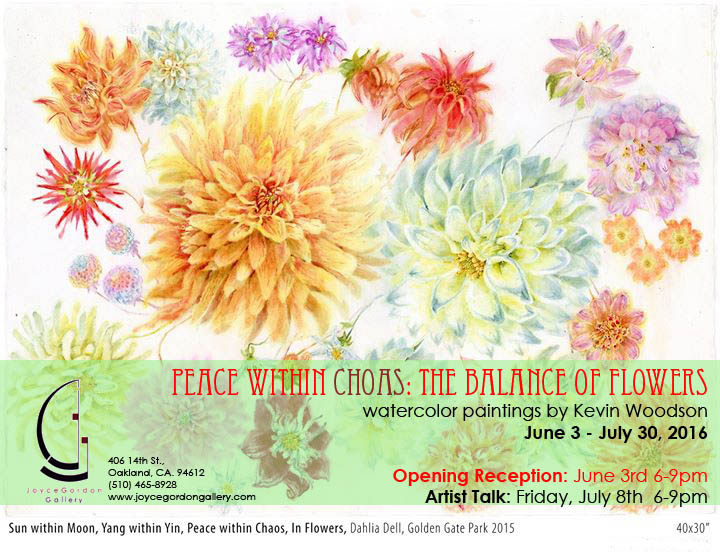 Peace Within Chaos at Joyce Gordon Gallery represents a collection of work that steps outside the expectations and constraints flower fans, gardeners, and the art world has put on them. Artist, Kevin Woodson painted his "Peace Within Chaos" series in gardens, but the paintings go beyond the garden walls, illuminating the flowers' lessons in balance. In this collection, his plein air botanical watercolors often painted in the Oakland Gardens are seen in the form of cultural memes such as Yin and Yang, power and repose, death and rebirth, and Peace within Chaos.
BOOK RELEASE
Kevin will also present his new book, "Peace Within Chaos, a Book of Flowers" at the Artist Talk. Kevin's book of flowers features many of the spectacular paintings currently hanging in the gallery, and tells stories of life in the flowers, ranging from a lost toddler tip toeing through the Zinnias, to Aztec gardeners on Lake Texcoco, and even following the goddess Iris as she travels the world of rainbows.